_________________________________________________________________________________________________
Summer is finally here… what could possibly be better than World Music Day to celebrate the arrival of the warm weather?
It's on different tempos that worldwide artists are going to make us feel the vibe. Settled in the streets and in public spaces to share their passion, their melodies found their way to our office and inspired us…
In celebration of the 21st of June, we are releasing brand new musical items. You can now discover the new fur and shaman pack, among other new musical items to help you become more attuned to your own melody.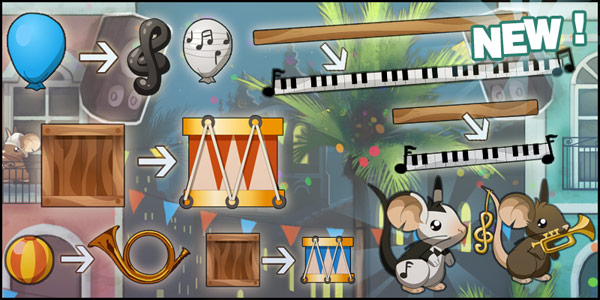 L'├ęt├ę est enfin arriv├ę… et quoi de mieux que la F├¬te de la Musique pour c├ęl├ębrer l'apparition des beaux jours ?!
C'est sur des tempos diff├ęrents que des artistes du monde entier comptent nous faire vibrer aujourd'hui. Install├ęs dans les rues et les espaces publics pour partager leur passion, leurs m├ęlodies ont su se frayer un chemin jusqu'├á nos bureaux et nous inspirer…
En ce 21 Juin, retrouvez en jeu des items in├ędits autour de l'univers musical : une fourrure, des objets et un un tout nouveau pack chamane sont l├á pour vous accorder ├á l'air du moment !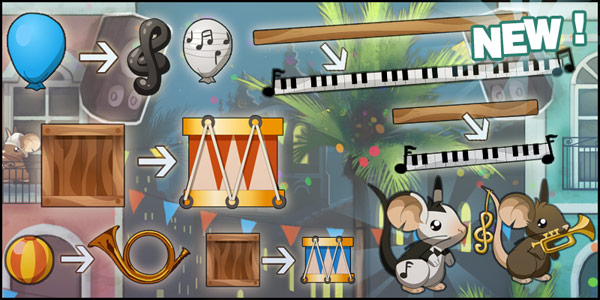 O ver├úo est├í finalmente chegando aqui na europa… e o que existe de melhor do que festejarmos esta chegada com muita m├║sica ?!?!
Para quem n├úo conhece, a festa da m├║sica ├ę um festival comemorado em todo o mundo, e, normalmente, no dia 21 de junho.
Por que essa data? Esta data coincide com o primeiro dia do ver├úo, aqui no hemisf├ęrio norte, onde os dias s├úo mais longos e as pessoas aproveitam o m├íximo para irem aos parques e curtirem os espa├žos externos ├á suas casas e apartamentos.
Os m├║sicos se instalam nas ruas para compartilhar suas paix├Áes musicais, suas dan├žas e etc…
A fim de promover a m├║sica de forma bem universal, estamos felizes em vos anunciar que este ano, diante de tantos ritmos diferentes e de artistas de todo o mundo, Transformice resolveu entrar na dan├ža.
Neste 21 de junho, encontre no jogo itens in├ęditos em torno do universo musical: pele, items e um novo pack chamane estar├úo presentes para marcar este momento!
Venha conferir! ;-)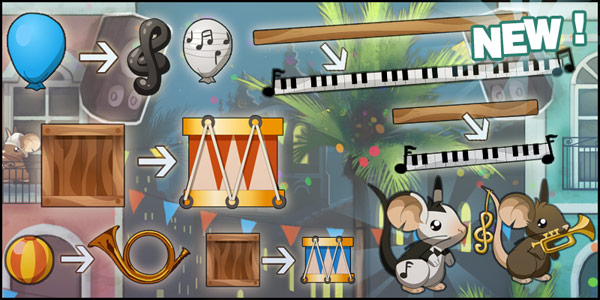 Yaz sonunda geldi… G├╝zel havalar─▒ kutlamak i├žin D├╝nya M├╝zik G├╝n├╝'nden daha ne iyi olabilir ki?
D├╝nya M├╝zik G├╝n├╝'n├╝n ne oldu─čunu bilmeyenler i├žin: Bu t├╝m d├╝nyada kutlanan ve genelde 21 Haziran'da yap─▒lan bir festivaldir. Bu tarih kuzey yar─▒m k├╝rede yaz─▒n en uzun g├╝n├╝d├╝r; insanlar da g├╝ne┼čin tad─▒n─▒ doyas─▒ya ├ž─▒kar─▒rlar.
D├╝nya ├žap─▒nda sanat├ž─▒lar bu g├╝nde, farkl─▒ tempolar ile bize titre┼čimi hissettirecekler. Sokaklarda, parklarda tutkular─▒n─▒ payla┼čmak isteyen m├╝zisyenlerin melodileri ofimize kadar ula┼čt─▒ ve bize ilham verdi…
21 Haziran kutlamalar─▒ i├žin, yepyeni m├╝zik temal─▒ e┼čyalar yaratt─▒k. Kendi melodinize uyum sa─člaman─▒za yard─▒mc─▒ olacak yeni k├╝rk├╝, ┼čaman paketini ve t├╝m di─čer m├╝zikal e┼čyalar ke┼čfedilmeye haz─▒rlar.