_________________________________________________________________________________________________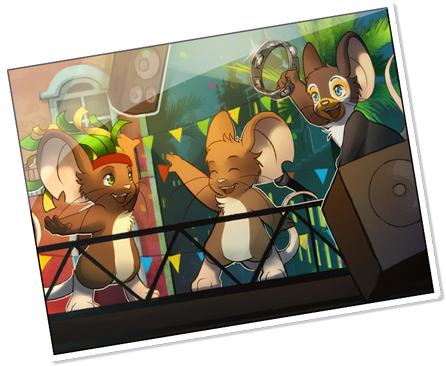 Hi mice!
You've looked forward to it, get dressed and come dance because the Carnaval starts today on Transformice! This year, come enjoy the Bahia Carnaval in Salvador. Salvador? Bahia? Yes you've read it well! For those who don't know about it, Bahia Carnaval is a popular street festival that takes place every year in Salvador, in the Brazilian state of Bahia. There are fewer feathers than in Rio, but the party is as much fun!
I hope you'll enjoy it ;)
To be the most stylish mouse of this Carnaval, go to the shop where you will discover brand-new items
- Berimbau. A musical instrument used for capoeira which is a mix between dance and martial-arts.
- Senhor do Bofim ribbons (literally, the lord of the Good End). This wish bracelet first appeared during the 19th century. Your mouse will be beautiful with one as a headband. Plus, they're told to give good luck ;)
- The tambourine for those who love to make noise and liven things up! \o/
Enjoy Brazilian fauna with the brand-new toucan fur!

Take part in the Carnaval to win not items but exclusive titles and this big event add-up : badges. From now on, win badges during events to add them to your profile. Show to everyone that you were the mouse of the place!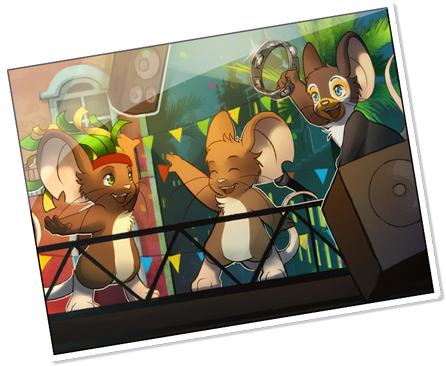 Salut les souris !
Vous l'avez attendu avec impatience, habillez-vous et venez danser car le Carnaval commence aujourd'hui sur Transformice ! Cette annĂ©e, on vous emmène au Salvador fĂŞter le Carnaval de Bahia. Le Salvador ? Bahia ? Oui, c'est bien ça ! Pour ceux qui ne connaissent pas, le Carnaval de Bahia est un festival de rue populaire qui se tient chaque annĂ©e Ă  Salvador, dans l'Etat brĂ©silien de Bahia. Il y a moins de plumes qu'à  Rio mais il est tout aussi festif !
J'espère que la fĂŞte va vous plaire ;)
Pour être la souris la plus stylée du Carnaval, rendez-vous à la boutique pour découvrir de tous nouveaux items qui mettent à l'honneur la culture bahianaise ! :-D
- Le berimbau. Un instrument de musique qui rythme la capoeira, mélange entre danse et arts-martiaux.
- Les rubans Senhor do Bonfim (Littéralement, le seigneur des belles fins). Ce bracelet porte-bonheur, dont les origines remontent au XIXè siècle, rendra votre souris « magnifaïk » porté en bijou de tête. En plus, ils portent chance ;)
- Le tambourin pour ceux qui adorent faire du bruit et mettre l'ambiance. o/
La faune brésilienne est aussi à l'honneur avec le toucan. Pour votre plus grand plaisir, on en a fait une fourrure !

Pendant le Carnaval, pas d'items à gagner mais des titres exclusifs et une grande nouveauté : les badges. Désormais, vous pourrez remporter des badges, lors des events, qui seront ajoutés à votre profil. Montrez que vous étiez là !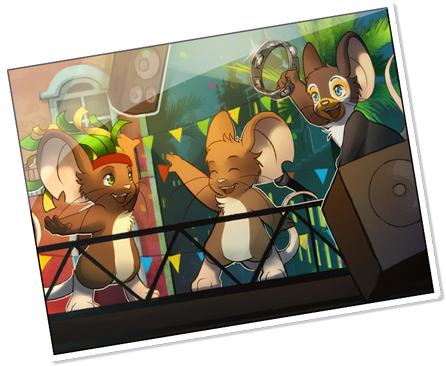 Olá ratinhos!
O carnavaldemorou, mas chegou! O importante Ă© comemorar nĂŁo Ă© mesmo?! Pois bem, este ano Transformice resolveu homenagear o carnaval de Salvador, ou melhor, o carnaval da Bahia.
Salvador??? Bahia??? É, isto mesmo!! Para aqueles que não sabem, o carnaval da Bahia, é uma carnaval festa popular de rua que é organizada anualmente em Salvador, no estado brasileiro da Bahia. Um pouco diferente do carnaval do Rio de Janeiro, com menos plumas porém também festivo.
Espero que vocĂŞs curtam o carnaval deste ano!
Para curtir o evento com muita categoria e estilo, que tal descobrirem carnaval novos items fresquinhos que reverenciam a cultura bahiana?! :-D
- O berimbau, para os que curtem uma capoeira.
- As fitinhas do Senhor do Bomfim para embelezar a cabeça dos seus ratinhos.
- E o pandeiro, para os que requebram tudoooo! lol
Não somente o carnaval da Bahia está sendo homenageado, como também a fauna brasileira. E o queridinho da vez é o tucano. Vejam que lindo este novo pelo:

Neste evento de Carnaval,não tem itens para ganhar, mas títulos exclusivos e uma grande novidade: os broches. Agora você pode ganhar estes broches em cada evento, e eles serão adicionados ao perfil daqueles que participarem. Mostre que você estava lá!