_________________________________________________________________________________________________
Remember Jingle? After hosting the spectacular Christmas 2010 party, he went on a vacation exploring places all around the world. I'm sure several lucky mice had the pleasure to meet him; share your exciting stories on the forums if you did!
Jingle is now back and welcomes you to his modest abode for Christmas. Don't forget to bring some milk and cookies for Santa Maus and his reindeers!

Unwrap your presents on Jingle's home to win new hats or share them with other mice to unlock christmas titles!
You can find these little presents on every map – the shaman will have to help you get to them. Enter the hole with a present and a cheese in order to increase your present count. You can see your present counts and several other information in the right corner.
You've already won all christmas titles previous years? If you manage to collect them again this year, your titles will get a relooking. As an example, the title "Cookie" will become "Cookie ★". Plus, the color of the added star will also be special! *-*
———–
This year, we've prepared a very special gift for you all. The long awaited Mulodrome that we told you about in 2012 is now becoming reality.
Compete against your friends or team up to vainquish another tribe.
Go to a private room with 9 other mice. There, use the command /mulodrome to create the two teams and start the game.
How does it work?
(Press "play" to join a team!)

1 game =

10 rounds

2 teams

Racing maps

only

5 mice max by team

. You can do a 1vs1 if you wish.
System points: 1st mouse to enter into the hole gives 5 points to their team. 2nd mouse gives 4 points, 3rd mouse gives 3 points, 4th mouse gives 2 points and 5th mouse gives 1 point.
The

winning team is the one with the highest number of points

by the end of the game.

You don't win cheese or stats in mulodrome

.
Ready… Set… Goooooo! May the best team win!
Vous rappelez-vous de Jingle ? Après avoir organisé l'incroyable fête de Noël 2010, il a pris des vacances pour faire un voyage autour du monde. Je suis sûre que certaines souris ont eu la chance de le rencontrer. Si c'est votre cas, partagez vos histoires exaltantes sur le forum !
Jingle est de retour et vous accueille dans son modeste logis pour Noël. N'oubliez pas d'apporter du lait et des cookies pour Papaille Noël et ses rennes !

Déballez vos cadeaux dans la maison de Jingle pour gagner de nouveaux chapeaux ou bien offrez-les à d'autres souris pour débloquer des titres de Noël !
Vous trouverez ces petits paquets cadeaux sur toutes les cartes, la chamane devra vous aider à les ramasser. Retournez au trou de souris avec votre cadeau et un fromage pour augmenter vos nombre de cadeaux. Votre nombre de cadeaux et plusieurs autres informations sont visibles dans le coin en bas à droite de la carte.
Vous avez déjà gagné tous les titres de Noël les années précédentes ? Si vous réussissez à les récolter une nouvelle fois cette année, vos titres seront relookés. Par exemple, le titre « Cookie » deviendra « Cookie ★ ». L'étoile sera même d'une couleur spéciale ! *-*
———–
Cette année, nous vous avons préparé un cadeau très spécial . Le très attendu Mulodrome dont nous vous avions parlé en 2012 entame sa phase bêta.
Défiez vos amis ou faites équipe pour rivaliser avec une autre tribu.
Rejoignez un salon privé avec 9 autres souris. Puis, utilisez la commande /mulodrome pour créer les 2 équipes et débuter la partie.
Comment ça fonctionne ?
(Cliquez sur « Jouer » pour rejoindre une équipe !)

1 partie =

10 tours

2 équipes

Cartes Racing

only

5 souris max par équipe.

. Vous pouvez faire des partie à 1 contre 1 si vous le souhaitez.
Système de points : La 1ère souris à rapporter le fromage au trou donne 5 points à son équipe. La 2nde souris donne 4 points à son équipe, la 3ème 3 points, la 4ème 2 points et la 5ème 1 point.

L'équipe gagnante est celle qui a remporté le plus nombre de points

à la fin de la partie.

Vous ne gagnez ni fromages ni statistiques dans le Mulodrome.
Prêt… Feu… Parteeeez ! Que la meilleure équipe gagne !
Você se lembra de Jingle? Depois de organizar o espetacular Natal de 2010, ele saiu de férias para explorar novos lugares em torno do mundo. Estou certa de que alguns ratos tiveram a sorte de conhecê-lo. Se este for o teu caso, compartilhe tuas histórias inspiradoras no fórum!
Jingle está de volta e vos acolhe em sua modesta casa para o Natal.. Não esqueça o leite e os biscoitos para o Papaille Noel e suas renas!

Abra o teu presente na casa do Jingle para conquistar novos chapéus ou dê o presente para outros ratos para desbloquear títulos de natal!
Você pode encontrar estes pequenos presentes em cadamapa – o Shaman terá que ajudá-lo para consegui-los. Entre no buraco com um presente e um queijo, para aumentar a contagem de presentes. Você pode ver a quantidade de presentes que você obteve e várias outras informações no canto direito da tela.
Você já ganhou todos os títulos de Natal dos anos anteriores? Se você conseguir recuperar todos eles novamente este ano, os teus títulos receberão um novo visual. Por exemplo, o título "Biscoito" ficará "Biscoito ★". Além da cor, também será adicionado uma estrela especial ao lado do título! * – *
———–
Este ano nós preparamos um presente muito especial para vocês. O tão esperado Mulodrome, que falamos em 2012 está se tornando uma realidade.
Desafie os seus amigos ou juntem-se para competir com outras tribos.
Vá para uma sala privada com 9 outros ratos. Em seguida, use o comando /mulodrome para criar as duas equipes e iniciar o jogo.
Como isto funciona?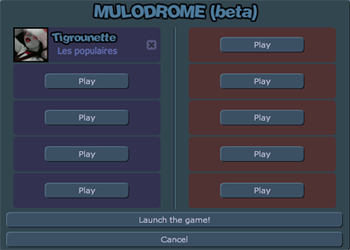 •1 partida = 10 rodadas
• 2 equipes
• Somente mapas Racing
• No máximo 5 ratos por equipe. Você pode fazer um 1X1, se desejar.
• Sistema de pontos: O primeiro rato a entrar na toca dá 5 pontos para sua equipe. O segundo rato dá 4 pontos, o terceiro rato dá 3 pontos, o quarto rato dá 2 pontos e o quinto e último rato dá 1 ponto.
• A equipe vencedora é a que tiver o maior número de pontos no final da partida.
• Você não ganhará queijos tão pouco estatísticas no Mulodrome.
Preparados? Às suas marcas! Jáááááááa! Que a melhor equipe ganhe!