_________________________________________________________________________________________________
'ô¨ It's Beginning to look a lot like Christmas 'ô¨
Oh oh oh! It's finally time to begin the festive season on Transformice! Which means your favourite festive maps are back!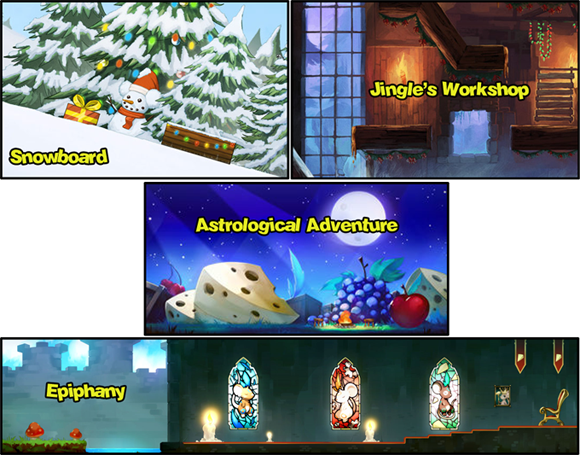 ---
From 13th of December until the end of January:  SNOWBOARD AND JINGLE'S WORKSHOP
First things first, put on some warm clothes to face the cold weather! You will find some exclusive winter items in the Shop!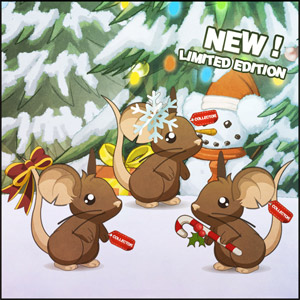 Now you're ready to go! (Wait… But what do I have to do?)
РAvoid obstacles by jumping РWhen you jump with a booster, try to make a somersault with right and left arrows and land on your snowboard: you'll gain speed! РCatch as many snowboard coins as possible and exchange them to Brice! 

You will also find presents on regular Transformice maps.
For those who don't know about the presents, you will find 

that you will be able to trade to obtain 

(What's the difference?)
The prizes you'll find will be different: some of the green presents contain fragments that the red ones don't have and conversely…
And here comes the trading part!
- Trade fragments with other players to be able to get a Relic.
- The Relics will give you rewards: cheese, golden tickets, titles and even fraises!
- Get all the Relics and you will unlock a badge and an exclusive title!
---
The little mice will also be helping Jingle (also known as Santa Maus) in his workshop!
How does it work?
On this special map, designed by the Map Crew members, you will be linked 3 by 3. One of you will be a santa, a reindeer and an elf. Each one of you should grab a different present and go back to the Jingle's sleigh on the bottom right. If all the 3 of you succeed, you will obtain a Soulmate Coin each!
Soulmate coin? What can I do with it?
Exchange them to Jingle on an exclusive map where you can exchange your gifts, Soulmate Coins and the Snowboard Coins to obtain exclusive titles!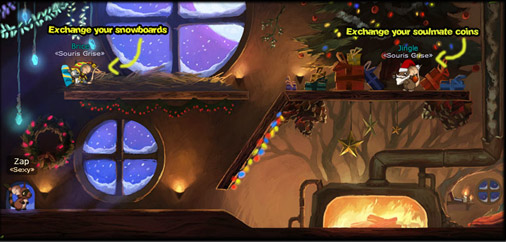 ---
NEW
You can now send consumables with your letters! Perfect time to send your Christmas gifts :D
You are also able to save them! No need to take screenshots anymore :)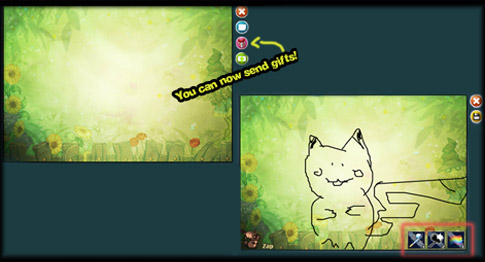 Displayed consumables can be removed by clicking on it in case they hide the drawing.
---
From 3rd of January until the end of January: ASTROLOGICAL ADVENTURE
On this beginning of the year all mice must please their beloved Cheese Moon and to do so, the 12 astrological cheese signs must be reunited!
Did you know that all mice were born under an astrological cheese? Mozzarella, Brie, Emmental (In France we tend to think that the smellier the cheese is, the best it is!)… what are you? To fulfill the Cheese Moon's wishes you must gather all the astrological cheese. To do so, during an adventure map you can¬†exchange your astrological cheese with an other mouse, but only one, choose wisely!¬†To tell you what cheese amongst the 12 signs is missing, the almighty moon will show you which you have already gathered for her.
---
From 18th January until the end of January: EPIPHANY
One of the favorite times of King Fromagnus has finally arrived: the Epiphany!
This celebration commemorates the visit of the three Shaman Queens: The Mechanic, the Mistress of the Wind and the Spiritual Guide, which have gone on a treacherous journey to give gifts to Elisah, the Shaman Goddess. The trip was a dangerous one according to the stories which relate to these distant facts, but the Sacred Cheese Moon would've helped the three Queens by guiding them to their final destination.
In this particularly tasty time of the year,all mice celebrate this pilgrimage by swallowing king cakes! Legend says that one of the three Shaman Queens wanted to bring cheese to Elisah and that she mistook it for a king cake slice! How could one ever confuse a slice of cheese with a piece of cake? Well, it is probably indeed just a legend. Or maybe it was a cheese cake?

This year, King Fromagnus received a lot of king cakes from his vicinity. However, after eating more than he should, he suddenly realized that he was no longer able to get up. That's why you are invited to his castle to bring him slices that are inaccessible to him. In exchange, he will reward you and who knows.. maybe you'll get the charm! Beware though, it seems like there's only one per batch..
---
We wish you all a Merry Christmas and a Happy New Year little mice! <3
'ô¨ Vive le vent vive le vent vive le vent d'hiver 'ô¨
Oh oh oh ! Il est enfin temps de lancer les festivités de fin d'année sur Transformice ! Ce qui signifie que vos cartes festives préférées sont de retour !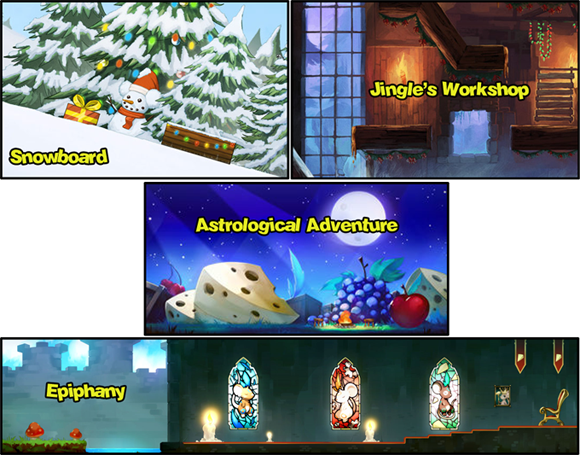 ---
Du 13 décembre jusque fin janvier : SNOWBOARD ET L'ATELIER DE JINGLE
Tout d'abord, équipez-vous de vêtements chauds pour affronter les basses températures ! Vous trouverez quelques items hivernaux exclusifs dans le magasin !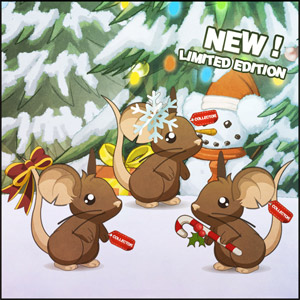 Vous voil√† maintenant pr√™ts, c'est parti ! (Attendez… Mais qu'est-ce qu'on est cens√© faire ?)
- √Čvitez les obstacles en sautant
- Lorsque vous sautez avec une rampe, essayez de faire un salto avec la flèche gauche et la flèche droite et stabilisez votre snowboard : votre vitesse augmentera !
- Attrapez autant de snowboards sur la map que possible et échangez-les auprès de Brice ! 

Vous allez également trouver des cadeaux sur les cartes régulières de Transformice. Pour ceux et celles qui ne sont pas au courant du fonctionnement des cadeaux, vous allez trouver des 

 que vous pourrez échanger afin d'obtenir des 

(Quelle est la différence ?)
Les lots que vous obtiendrez seront diff√©rents : vous pouvez obtenir des fragments de relique diff√©rents selon si vous ouvrez un cadeau vert ou un cadeau rouge, ce qui fait que les cadeaux verts ont des fragments de relique que les cadeaux rouges n'ont pas et inversement…
Faisons maintenant place aux échanges !
- √Čchangez des fragments de relique avec les autres joueurs afin de pouvoir obtenir une relique.
- Une relique vous donnera des récompenses : des fromages, des tickets d'or, des titres et même des fraises !
- Obtenir toutes les reliques vous permettra d'obtenir un badge et un titre exclusif !
---
Les petites souris devront également venir en aide à Jingle (aussi connu en tant que Santa Maus) dans son atelier !
Comment ça marche ?
Sur cette carte sp√©ciale, customis√©e par les membres de la¬†Map Crew, vous serez li√©s par groupes de 3. L'un d'entre vous sera un¬†p√®re No√ęl, un autre sera un¬†renne¬†et le dernier sera un¬†elfe. Chacun d'entre vous devra prendre un cadeau diff√©rent et retourner au tra√ģneau de Jingle en bas √† droite. Si vous r√©ussissez tous les trois, vous obtiendrez chacun une¬†Pi√®ce d'√āme-SŇďur¬†!
Une pi√®ce d'√āme-SŇďur ? Qu'est-ce que je dois faire avec ?
√Čchangez-les aupr√®s de Jingle sur une carte exclusive o√Ļ vous pourrez vous √©changer vos cadeaux, pi√®ces d'√āme-SŇďur et snowboards afin d'obtenir des titres exclusifs !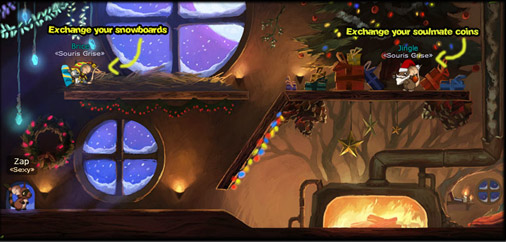 ---
NOUVEAU
Vous pouvez √† pr√©sent envoyer des consommables avec vos lettres ! C'est le moment id√©al pour envoyer vos cadeaux de No√ęl :D Vous pouvez √©galement sauvegarder vos lettres ! Plus besoin de prendre des captures d'√©cran :)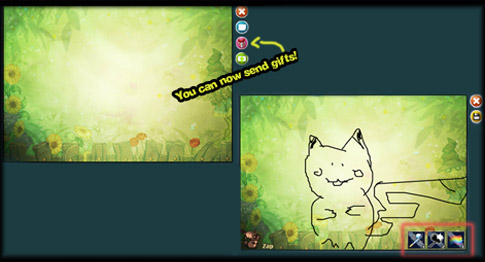 Les consommables affichés peuvent être retirés en cliquant dessus s'ils cachent le dessin.
---
Du 3 janvier jusque fin janvier : LUNE DES FROMAGES SACR√ČS
Afin de bien démarrer la nouvelle année, toutes les souris devront prier leur Lune de Fromage sacré adorée et pour ce faire, les 12 signes astrofromagiques doivent être réunis !
Saviez-vous que toutes les souris sont n√©es sous un signe astrofromagique ? Mozzarella, Brie, Emmental (En France, nous avons tendance √† penser que plus le fromage sent mauvais, meilleur il est !)… Lequel √™tes-vous ? Afin de remplir vos vŇďux de la Lune des Fromages sacr√©s vous devrez r√©unir tous les signes astrofromagiques. Pour ce faire, lors de la map event vous pouvez¬†√©changer votre signe astrofromagique avec une autre souris, mais seulement une, choisissez bien !¬†Afin de savoir quel signe astrofromagique il vous manque sur les 12, la Lune vous montrera quels signes vous avez d√©j√† r√©colt√©s pour elle.
---
Du 18 janvier jusque fin janvier : √ČPIPHANIE
L'un des moments favoris du¬†Roi Fromagnus¬†est finalement arriv√© :¬†L'√Čpiphanie !
Cette c√©l√©bration comm√©more¬†la visite des trois Reines Chamanes¬†: La M√©canicienne, la Ma√ģtresse du Vent et la Guide Spirituelle,¬†qui ont fait un p√©riple dangereux afin d'offrir des cadeaux √† Elisah, la D√©esse Chamane. Le voyage √©tait p√©rilleux selon les histoires qu'on raconte sur ces p√©rip√©ties anciennes, mais la Lune de Fromage sacr√© aurait aid√© ces trois Reines en les guidant vers leur destination finale.
En cette particuli√®rement d√©licieuse partie de l'ann√©e,¬†toutes les souris c√©l√®brent ce p√®lerinage en d√©vorant des galettes des Rois !¬†La l√©gende dit qu'une des trois Reines Chamanes d√©sirait apporter un peu de fromage √† Elisah mais qu'elle a apport√© de la galette √† la place ! Qui pourrait confondre un bout de fromage avec une part de galette ? M'enfin, ce n'est s√Ľrement qu'une l√©gende. Ou peut-√™tre √©tait-ce une galette au fromage ?

Cette ann√©e, le¬†Roi Fromagnus¬†a re√ßu beaucoup de galettes des Rois de ses voisins. Toutefois, apr√®s avoir mang√© plus qu'il n'aurait d√Ľ, il a soudainement r√©alis√© qu'il ne parvenait plus √† se lever. C'est pourquoi vous √™tes invit√©s dans son ch√Ęteau afin de lui¬†apporter des parts qui lui sont inaccessibles.¬†En √©change, il vous r√©compensera et qui sait…¬†peut-√™tre obtiendrez-vous la f√®ve !¬†Attention cependant, il semblerait qu'il n'y ait qu'une seule¬†f√®ve par fourn√©e…
---
Nous vous souhaitons √† tous et √† toutes un Joyeux No√ęl et une bonne fin d'ann√©e, nos ch√®res souris ! <3
'ô¨ Ent√£o √© Natal… 'ô¨ Ho ho ho! Chegou a hora de festejar no Transformice! Ou seja, seus mapas festivos favoritos est√£o de volta!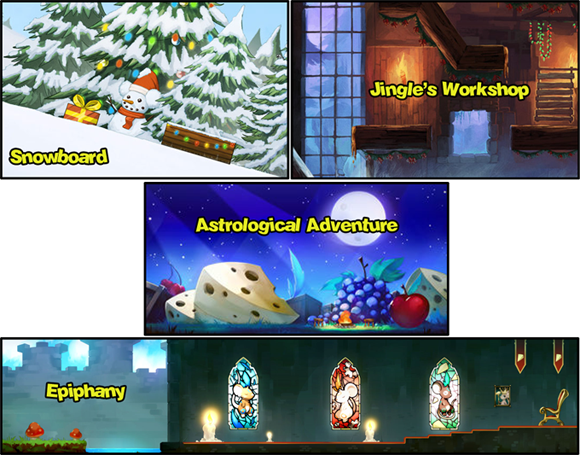 ---
Do dia 13 de Dezembro até o final de Janeiro: 
SNOWBOARD E A OFICINA DO JINGLE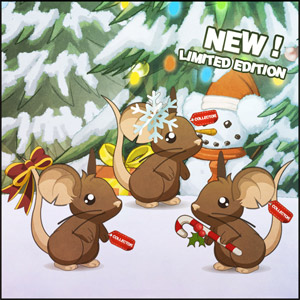 Primeiramente, coloque umas roupas mais quentinhas para encarar o frio! Você encontrará alguns itens exclusivos de natal na loja!  Agora que você está pronto, vamos!
(N√£o, pera… mas o que eu preciso fazer?)
- Para desviar dos obst√°culos, pule.
- Quando voc√™ pular com um booster, tente fazer um mortal com os bot√Ķes direita e esquerda. Se voc√™ conseguir pousar depois de um mortal, voc√™ ganhar√° mais velocidade!
- Pegue o máximo de moedas de snowboard o possível e troque-as com o Brice! 

Além disso, você também encontrará presentes nos seus mapas normais do Transformice.
Para aqueles que não conhecem como funciona os presentes, você encontrará 

 e poderá trocar para conseguir 

(Qual a diferença?)
Os prêmios que você encontrará nos presentes será diferente: alguns presentes verdes darão fragmentos que os presentes vermelhos não dão e assim por diante. E aqui vai a parte das trocas!
- Troque fragmentos (peças) com os outros jogadores para conseguir uma Relíquia.
- As Relíquias darão as seguintes recompensas: queijos, tickets de ouro, títulos e até mesmo morangos!
- Consiga todas as Relíquias e você terá uma medalha e um títulos exclusivo!
---
Os ratinhos também ajudarão o Jingle (também conhecido como Rato Noel) na sua oficina!
Como funciona?
Nesse mapa de evento, feito pelos membros da Map Crew, você terá duas almas gêmeas, formando um trio. Um de vocês será o Papai Noel, o outro a rena e o outro um elfo. Cada um de vocês deverá pegar um presente diferente e voltar para o trenó do Jingle, que fica no canto inferior direito do mapa. Se todos os três conseguirem, cada um ganhará uma Moeda Alma Gême! Uma Moeda Alma Gêmea? O que eu posso fazer com ela? Troque-as com o Jingle no mapa de evento que você pode trocar presentes, Moedas Alma Gêmea e Moedas de Snowbard para obter títulos exclusivos!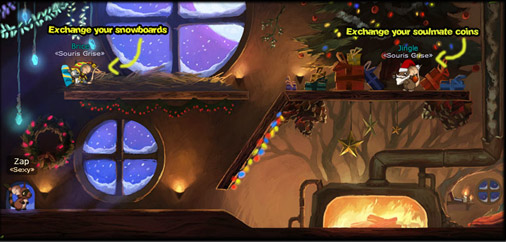 ---
NOVIDADE
Agora você pode mandar itens consumíveis do inventário nas suas cartas!
√ďtima oportunidade para mandar seus presentes de natal. :D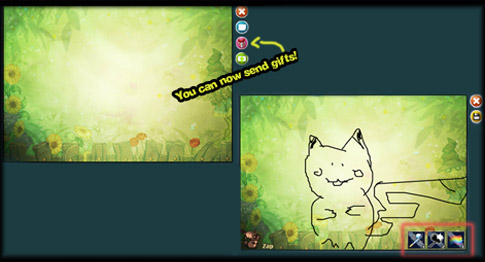 Os itens consumíveis podem ser removidos, basta clicar neles caso eles ficarem em cima do desenho.
---
Do dia 3 de Janeiro até o final de Janeiro:
AVENTURA ASTROL√ďGICA
No in√≠cio do ano, todos os ratos devem apreciar suas am√°veis¬†Luas de Queijo¬†e, para isso,¬†os 12 signos queijais astrol√≥gicos devem ser reunidos! Voc√™ sabia que todos os ratos nascem sob um queijo astrol√≥gico? Mu√ßarela, Brie, Emmental (na Fran√ßa, acreditamos que quanto mais forte o cheiro do queijo, melhor ele √©!)… e voc√™, qual √© o seu queijo? Para realizar os desejos da Lua de Queijo, voc√™ deve juntar todos os queijos astrol√≥gicos. Para isso, durante o mapa de evento dessa aventura, voc√™ pode¬†trocar o seu queijo astrol√≥gico com um outro rato, mas somente com um rato! Escolha bem!¬†Para voc√™ saber qual dos 12 signos est√° faltando, a toda poderosa Lua te mostrar√° quais voc√™ j√° coletou.
---
Do dia 18 de Janeiro até o final de Janeiro:
EPIFANIA
Uma das √©pocas favoritas do¬†Rei Maqueijo¬†finalmente chegou:¬†a Epifania! Nesse evento, n√≥s celebramos¬†a visita das Tr√™s Rainhas Shamans: A Mec√Ęnica, A Senhora do Vento e a Guia Espiritual,¬†que embarcaram numa viagem trai√ßoeira para presentar a Elisah, a Deusa Shaman. De acordo com os fatos ditados de uma longa era atr√°s, a viagem foi muito perigosa, mas a Lua Sagrada de Queijo teria ajudado as Tr√™s Rainhas, guiando-as at√© seu √ļltimo destino. Nessa √©poca desafiadora do ano,¬†todos os ratos celebram essa peregrina√ß√£o devorando bolos-rei! Reza a lenda que uma das Tr√™s Rainhas Shamans queria trazer queijo para a Elisah, mas ela confundiu o queijo com um peda√ßo enorme de bolo! Como pode algu√©m confundir um peda√ßo de queijo com um peda√ßo de bolo? Ora, provavelmente √© s√≥ uma lenda mesmo. Ou ser√° que era um bolo de queijo?

Nesse ano, o¬†Rei Maqueijo recebeu v√°rios bolos-rei de sua vizinhan√ßa. Por√©m, ap√≥s comer mais do que deveria, ele repentinamente percebeu que n√£o conseguia mais se levantar! √Č por isso que voc√™ est√° convidado a ir ao seu castelo para¬†dar a ele peda√ßos quais ele n√£o consegue pegar sozinho.¬†Em troca, o rei te premiar√° e, quem sabe…¬†pode ser que voc√™ receba um amuleto!¬†Fique atento, porque parece que¬†s√≥ vem um amuleto¬†por lote…
---
Desejamos a todos os ratinhos um Feliz Natal e Feliz Ano Novo! <3