_________________________________________________________________________________________________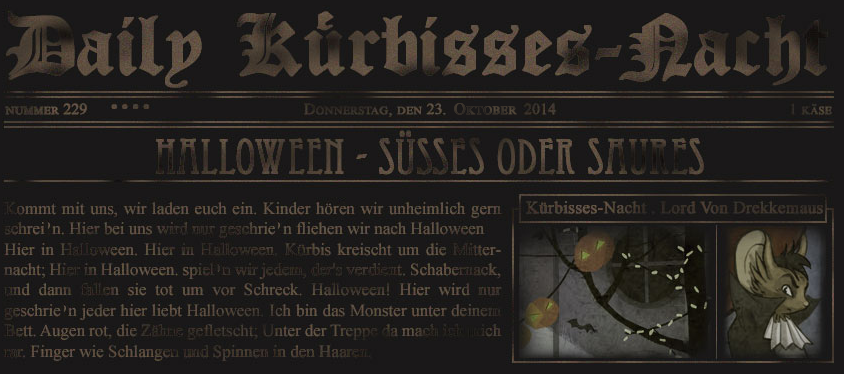 Trick or Treat ?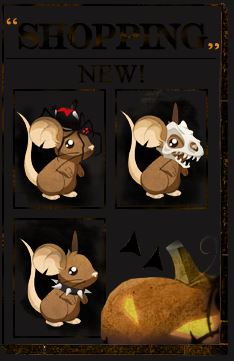 This year, the entire city of K├╝rbisses-Nacht is playing along!

Covered with candy or doomed to a sudden end? The damned city gates of K├╝rbisses-Nacht will decide of your fate! Mice who can find the courage to stand in front of them must be ready to face the unknown …
The lucky ones who manage to win goodies will go to Lord von Drekkemaus' and benefit from its slot machines and, who knows, maybe win the Big Jackpot.
Besides this award (which reserves a deadly surprise), each mouse has a chance to get consumables, cheese and other delicacies…
Your journey will be perilous and fraught with pitfalls. Throughout these tests the moral support of Buffy will be essential to keep your blood, preferably very cold…
P-F. Meadd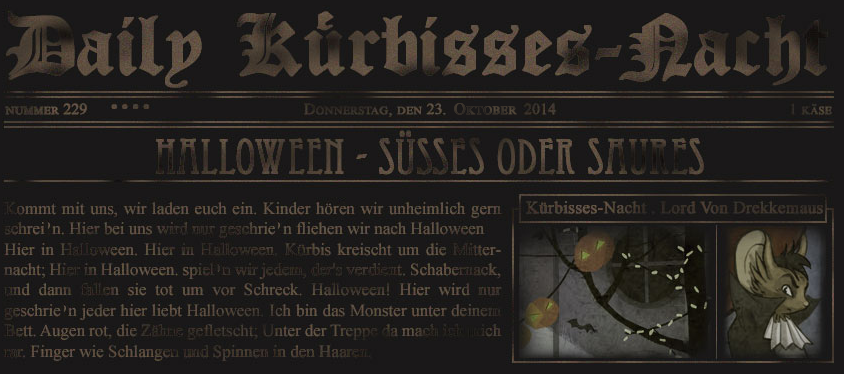 Farce ou friandises ?
Cette ann├ęe, c'est toute la ville de K├╝rbisses-Nacht qui se pr├¬te au jeu!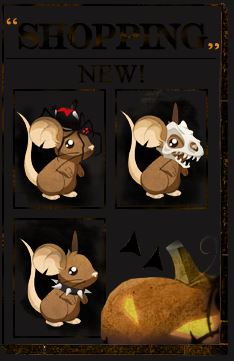 Couverts de confiseries ou vou├ęs ├á une disparition soudaine ? Ce sont les portes damn├ęes de la ville de K├╝rbisses-Nacht qui d├ęcideront de votre destin ! Les souris ayant le courage de se tenir face ├á elles devront ├¬tre pr├¬tes ├á affronter l'inconnu…
Les plus chanceuses ayant r├ęussi ├á remporter des sucreries se rendront chez Lord von Drekkemaus et profiteront de ses machines ├á sous et, qui sait, remporteront peut-├¬tre le Grand Jackpot.
Outre ce prix (qui vous r├ęserve une surprise mortelle), chaque souris aura une chance d'obtenir des consommables, des objets, des fromages et bien d'autres douceurs…
Votre chemin sera p├ęrilleux et sem├ę dÔÇÖemb├╗ches. Tout au long de ces ├ępreuves le soutien moral de Buffy vous sera indispensable pour garder votre sang, de pr├ęf├ęrence bien froid…
P-F. Meadd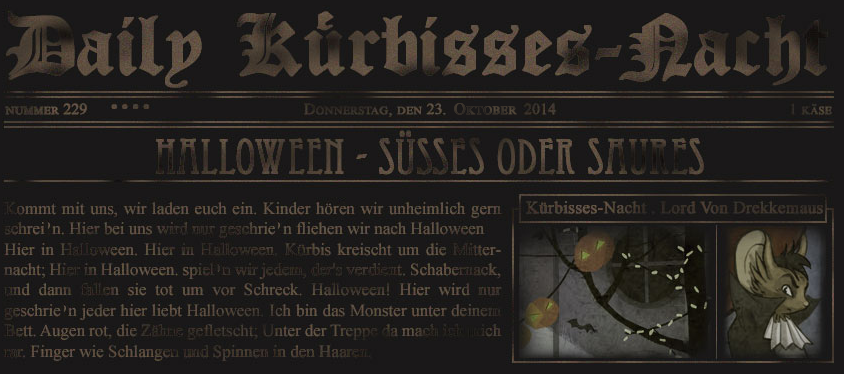 Gostosuras ou Travessuras?
Este ano, toda a cidade de Kürbisses-Nacht está pronta para entrar na brincadeira!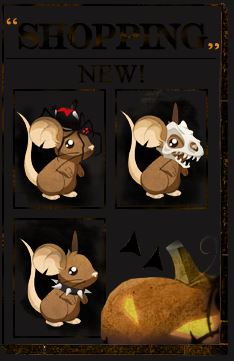 Cobertos de doces ou condenados ├á uma morte s├║bita? As portas misteriosas da cidade de K├╝rbisses-Nacht que decidir├úo o destino de voc├¬s. ┬áAo se posicionarem em frente ├ás portas, voc├¬s devem estar prontos para┬áenfrentar o desconhecido…
Os ratinhos sortudos que conseguirem ganhar guloseimas irão visitar Lord Von Drekkemaus e poderão desfrutar de suas máquinas da sorte, e quem sabe ganhar o tão desejado Jackpot.
Al├ęm deste pr├¬mio (que ser├í uma surpresa mortal), cada ratinho poder├í ganhar consum├şveis, queijos, e outras iguarias. Que tal?!
Esta aventura ser├í perigosa e cheia de armadilhas. No decorrer do tempo, o apoio moral de Buffy ser├í essencial para manter o seu sangue, de prefer├¬ncia bemmmm frioooo…
P-F. Meadd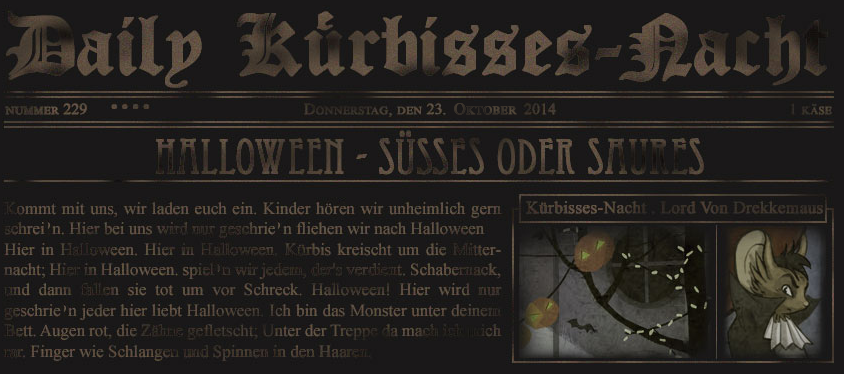 ┼×eker ya da ┼čaka?
Bu sene b├╝t├╝n┬áK├╝rbisses-Nacht┬á┼čehri oyuna kat─▒l─▒yor!
┼×ekerlemelerle mi kapl─▒,┬áyoksa ani bir kaybolu┼ča m─▒ mahkum?┬áKaderinizi┬ábelirleyecek olan K├╝rbisses-Nacht'─▒n lanetli kap─▒lar─▒d─▒r! Bunlara kar┼č─▒ durma cesaretini bulan fareler tetikte olmal─▒:┬áher an, her ┼čey olabilir…
Tatl─▒lar─▒ kazanabilmi┼č olan ┼čansl─▒ fareler┬áLord von Drekkemaus'a gidip para makinelerinde oyun oynayabilecekler; ve kim bilir, belki┬áB├╝y├╝k ikramiyeyibile kazanabilecekler.
Sizler i├žin ├Âl├╝mc├╝l bir s├╝rpriz saklayan bu ├Âd├╝l d─▒┼č─▒nda, b├╝t├╝n fareler baz─▒┬átek kullan─▒ml─▒k ├╝r├╝nlere, peynirlere ve di─čer tatl─▒ ┼čeylere┬ásahip olma ┼čans─▒na kavu┼čacak.
Yolculu─čunuz┬átehlikeler ve tuzaklarla┬ádolu. Bu s─▒navlar s─▒ras─▒nda,┬áBuffy'nin manevi deste─či sizin i├žin vazge├žilmez olacak: kan─▒n─▒z─▒ tercihen so─čuk tutun…
P-F. Meadd