_________________________________________________________________________________________________

Amazonia, a thorny bush, July 8
I'm exhausted, I've no more cheese and my ears hurt. I should've known that this cheese fragrance was a trap. The natives have been chasing me for hours. I've managed to hide in this bush but I'm too tired to go on. I can hear the leaves crunching under their feet, they're coming closer and closer to me. My poor little hiding place won't protect me for long.
I know I'm about to find the relics. I can feel it. I'm sure they contain a hidden power. Legends speak of it. 10 relics were destroyed and their pieces were scattered underwater. Surely, collecting all pieces of the same relic should reveal its secret.
Through my investigation, I've marked off 5 search areas on this map. I'm convinced we have to fish in water points there.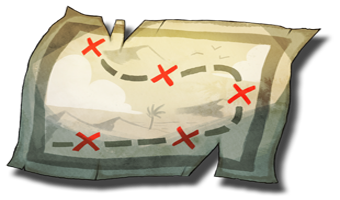 You, explorer who reads these lines, if you find this journal it means I'm lost. Find the pieces of the relics and rebuild them.
Everything depends on you.
_ _ _ _ _
Explorers guide:
This event is made of 

5 different maps

. These maps will play in all 

vanilla and regular rooms

.

Use 'Üď to fish

 in water points.
You can fish the same piece several times. You can

trade

them with any other player.
There are a total of 

10 relics each one composed of 10 pieces

.
You can find your 

inventory in the menu

. Pieces of the same relics are represented by the same background color.
The event will last until September 1!

Amazonie, un buisson qui pique, le 08 juillet 2014
Je suis épuisé, je n'ai plus de fromages et j'ai mal aux oreilles. Je savais que cette odeur de fromage était un piège. Les indigènes m'ont pourchassé durant des heures. J'ai réussi à me cacher dans ce buisson mais je suis trop fatigué pour continuer. J'entends les feuilles craquer sous leurs pas, ils se rapprochent. Ma pauvre cachette ne me protégera pas longtemps.
Je sais que je suis proche des reliques. Je le sens. Je suis persuadé qu'elles renferment un pouvoir caché, les légendes l'assurent. 10 reliques ont été détruites. Réunir tous les morceaux d'une relique devrait nous révéler son secret.
Gr√Ęce √† mon investigation, j'ai pu limiter les zones de recherches √† ces 5 lieux que j'ai not√©s sur cette carte. Je suis convaincu qu'il faut p√™cher dans les points d'eau qui s'y trouvent.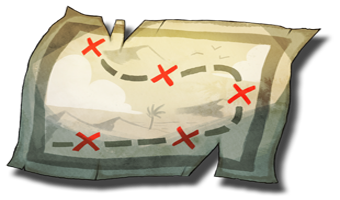 Toi, explorateur qui lis ces lignes, si tu trouves ce journal c'est que je suis perdu. Trouve les morceaux des reliques et reconstruis-les.
Tout repose sur toi.
_ _ _ _ _
Guide de l'explorateur :
Cet event est composé de

5 cartes différentes

qui passent dans les salons

vanilla et les salons normaux

.

Utilisez la touche 'Üď pour p√™cher

dans les points d'eau.
Vous pouvez pêcher plusieurs fois un même fragment. Ils sont

échangeables

avec les autres joueurs.
Il y a au total

10 reliques composées de 10 fragments chacune

.
Dans

l'inventaire (menu)

, les fragments d'une même relique sont représentés par la même couleur.

Amazonia, um arbusto espinhoso, 8 de Julho
Eu estou exausto, não tenho mais queijo e meus ouvidos estão doendo. Eu deveria ter adivinhado que esse cheirinho de queijo era pura armadilha. Os nativos estão me perseguindo há horas. Eu um jeito de me esconder neste arbusto; mas estou muito cansado para seguir em frente. Eu estou ouvindo o barulho de pés amassando folhas, estes passos firmes estão ficando cada vez mais próximos. Meu humilde esconderijo não vai me proteger por muito mais tempo.
E o pior é que eu sei que estou perto de encontrar as relíquias. Estou sentindo isto. Eu tenho certeza que elas possuem um poder escondido. As lendas falam sobre isto! 10 relíquias foram destruídas e seus pedaços estão perdidos debaixo d'água. Com certeza, coletando todos os pedaços da mesma relíquia, algum segredo deve ser revelado.
Gra√ßas √†s minhas investiga√ß√Ķes, eu pude limitar 5 √°reas de procura neste mapa. Estou convencido de que pescando nestes pontos de √°gua encontrarei algo.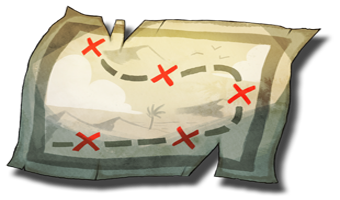 Você, explorador, que lê essas linhas, se encontrar este jornal significa que eu estou perdido. Me ajude! Encontre estes fragmentos das relíquias e as reconstrua .
Agora tudo depende de você!!!
_ _ _ _ _
Guia do explorador:
Este evento é feito de

5 diferentes mapas

. Os mapas rodar√£o em todas as salas de modo

Vanilla e Normal

.

Aperte a tecla 'Üď para poder pescar

nos pontos de √°gua.
Voc√™ poder√° pescar o mesmo fragmento in√ļmeras vezes. mas saiba que voc√™ poder√° troc√°-los com outro jogador.
H√° um total de

10 relíquias, cada uma composta de 10 pedaços

.
Você poderá encontrar seu

invent√°rio no menu

. Pedaços da mesma relíquia estarão representados pela mesma cor de fundo.
O evento durar√° at√© o dia 1¬į de Setembro.