_________________________________________________________________________________________________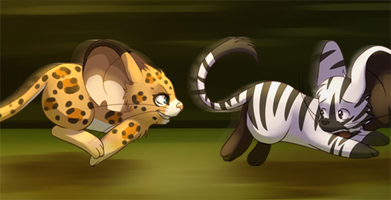 RAWR! Here is another update following your suggestions!
Ever dreamt to run after Zebras on Transformice? The highly requested leopard fur has arrived on Transformice! This fur will be yours for 270 Fraises instead of 300 Fraises (or 6,000 cheese) for a limited time!
To celebrate, the zebra fur will also be on sale during the same time going from 300 Fraises to 240.
GROAAR ! Voici une autre mise à jour ajoutée d'après vos suggestions !
Vous avez toujours rêvé de courir après les zèbres dans Transformice ? La très demandée fourrure léopard fait son apparition dans Transformice ! Cette fourrure sera vôtre pour 270 Fraises au lieu de 300 (ou 6.000 fromages) pour une durée limitée !
Pour fêter ça, la fourrure zèbre sera également vendue en solde durant la même période. Son prix passe ainsi de 300 Fraises à 240 pour quelques jours.
GRRRRR!!!! Aqui está mais uma nova atualização, como sugerido!
Sempre quiseram caçar zebras no Transformice? Kkkkkk pois bem, a pele de Leopardo tão cobiçada; finalmente chegou no Transformice! Esta pele poderá ser tua por 270 morangos ao invés de 300 morangos (ou 6000 queijos). Mas isto por um tempo limitado!
E para comemorar, a chegada da pele de Zebra, resolvemos também dar um desconto; ela estará no valor de 240 morangos ao invés de 300 morangos. Mesmo tempo de promoção para ambas as peles.
Aproveitem!! Â o/
¡GRRRR! ¡He aquí una nueva actualización según las sugerencias!
¿Siempre deseaste cazar cebras en Transformice? ¡La piel de leopardo tan deseado por fin llego en Transformice! ¡Esa piel será tuya por 270 fresas en lugar de 300 (o 6000 quesos) durante un tiempo limitado!
Y para celebrarlo, la piel de cebra también tendrá un descuento durante ese tiempo, con un valor de 240 fresas en lugar de 300.