_________________________________________________________________________________________________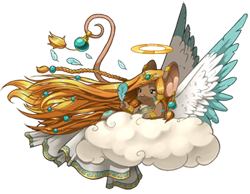 Do you enjoy the hard mod? Are you always looking for more challenge?
Be ready for a new test from the Shaman Goddess. Well, indeed you've become so pro that she's decided to raise the bar even higher!
Aaaah, it will be a whole new level of difficulty! After the hard mode, discover the new very hard much difficult mode: divine mode (as the divine goddess).
Want to show you skills by saving mice with brio and cleverness? This new mode is perfect for you!
How does it work?
To unlock the divine mode, you need to have saved at least 5000 mice in regular mode and 2000 in hard mode. But be warned: in divine mode no more red nails or yellow nails.
Seems impossible? (call Kim) It isn't. In this new mode, you'll be free of the summoning range: you will be able to invoke on the whole map without moving one paw. However, you'll also be free of totem, spirit and cloud.
All right, the challenge is set, it's on! What are you waiting for? We know you will succeed for sure! :p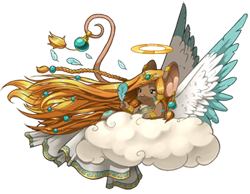 Vous aimez la chamane difficile ? Vous ĂŞtes constamment Ă  la recherche de plus de challenge ?
Alors tenez-vous prêts car la Déesse Chamane a décidé de vous lancer un nouveau défi. Eh oui, vous êtes devenus tellement pros qu'elle a décidé de mettre la barre encore plus haut !
Aaaah là , il va y avoir du niveau ! Après le mode difficile, découvrez le nouveau mode ultra méga difficile : le mode divin (comme la divine déesse)
Vous voulez montrer vos skills en sauvant les souris avec brio et astuce ? Ce mode est parfait pour vous !
Comment ça marche ?
Pour débloquer le mode divin, vous devrez avoir sauvé au minimum 5000 souris en mode normal et 2000 en mode difficile. Mais attention : en mode divin, vous n'aurez ni clous rouges ni clous jaunes.
Ça vous semble impossible ? Mais non. Dans ce nouveau mode, plus de portĂ©e d'invocation : vous pourrez invoquer sur l'ensemble de la carte sans bouger une patte. Par contre, plus de totem, plus d'esprit, et plus de nuage non plus.
Allez, le défi est lancé, c'est parti ! C'est à vous de jouer maintenant. On sait que vous allez réussir ! :-p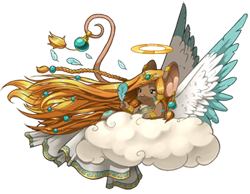 Você gosta do modo Shaman difícil? Você está constantemente à procura de mais um desafio?
Então, prepare-se! A Deusa Shaman decidiu lançar um novo desafio. Sim, sim! Você se tornou tão "pro", que ela decidiu aumentar o nível de dificuldade!
O bicho vai pegar!!! Depois do modo difĂ­cil, descubra o novo modo ultra-mega difĂ­cil: o modo divino (como a divina Deusa)
Quer mostrar suas habilidades salvando os ratos com brio e astĂşcia? Este modo Ă© perfeito para vocĂŞ!
Como funciona?
Para desbloquear o modo divino, você precisa ter salvo no mínimo 5000 ratinhos no modo normal e no mínimo 2000 ratinhos no modo difícil. Mas atenção: no modo divino, você não poderá usar os pregos vermelhos nem os pregos amarelos.
Parece impossĂ­vel? Mas claro que nĂŁooooo! Hehehe
Neste novo modo, você estará livre do raio de invocação: você pode invocar de onde você bem quiser no mapa sem precisar mover uma pata. Em contrapartida, não conte com o totem, com o spirit e tão pouco com a nuvem.
Vamos lá, o desafio foi lançado! O que você está esperando?!?! É a tua vez agora! Nós sabemos que você vai conseguir! :-p